Crème Brûlée Brownie
Brownie lover - you have met your match. Our Crème Brûlée Brownies begin with a gooey chocolate brownie base, get smothered in a vanilla and white chocolate topping and are finished with a sprinkle of homemade butterscotch. Utterly unique and marvellously melty.
This Product is currently Sold Out!
Order your Ridiculously Rich treats by the 17th of December to avoid disappointment and ensure delivery in time for Christmas!
It's fair to say that we're huge fans of chocolate brownies... we also love experimenting in our kitchen. That's why our Crème Brûlée Brownies are a decadent twist on the much-loved traditional brownie recipe. Inspired by crème brûlée (the custard-and-caramel dessert, native to France that is often prepared using a small handheld blowtorch), our gorgeous Crème Brûlée Brownies make for a tantalisingly unique treat.
All of our cakes have a shelf life of 28 days at room temperature, they can also be frozen.
Top Tip:
Serve alongside our Gooey Chocolate Brownies to add a little variety to your cake platter!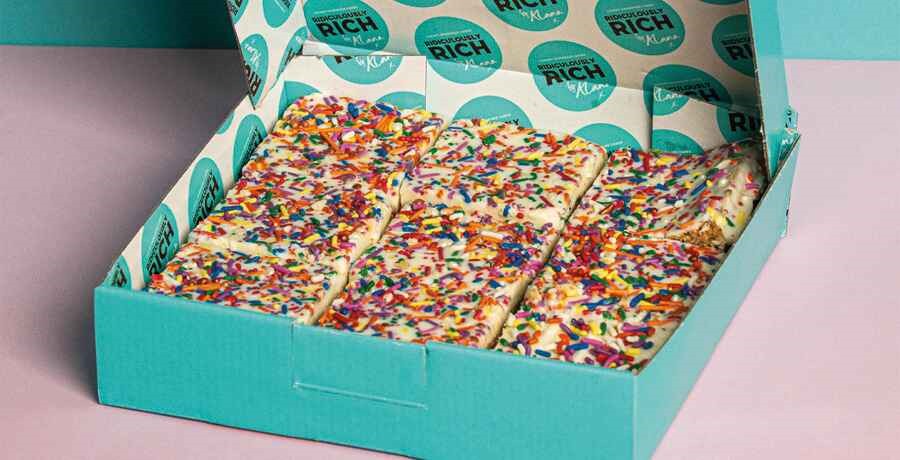 Ingredients
70% Dark Chocolate, British Brown Sugar, British Caster Sugar, Welsh Butter, Baking Powder, Free Range Eggs, Flour, White Chocolate, Condensed Milk, Margarine
Nutritional Information
% of an adult's reference intake. Typical values per 100g: 1100kj/265cal