START YOUR BUSINESS FOR ONLY £150!
Have you always dreamed of running your own business but have a busy home life or a full time job you aren't ready to leave yet? Then becoming one of our Ridiculously Rich Cakepreneurs might be your perfect career!

We know that not everyone has the time or funds to become an Ambassador, so we have created the perfect way for energetic and passionate foodies to join us as a Cakepreneur for only £150!

Ridiculously Rich have now built an army of cake-loving Ambassadors, selling our delicious handmade cakes at food events across the nation, but with countless eager wholesalers wanting to get a slice of the action (and cake!) we need YOU to help them!
There are no yearly targets, simply the more time you put in the more money you can make:
Signing up Independent Retailers: (Coffee Shops, Delicatessens, Farm Shops, Universities… the list is endless!) to sell our new Grab & Go Bars or trays of our cakes. Simply sign them up, help take their orders and we do the baking and delivering for you and pay you your commission! Perfect if you have a passion for selling cake but want to leave the logistics to us!
Weddings and Parties: Perfect for selling to your community! Help make someone's dream wedding display or favours, or provide yummy party platters for private functions. You can order the cake and let the customer do the rest, or help them set up and decorate the display yourself for the more creative of you. You agree a price and keep all of the profit!
Corporate Catering: Offices love cake! Think corporate gifts, meeting platters or just a Friday treat for staff. You could even set them up with a fortnightly or monthly subscription to get 20% kickback every time they receive their order! Do you work in an office? You could become the favourite employee!
Gifts or Online Orders: As a Cakepreneur you will have your own unique discount code for your customers entitling them to 5% off any online orders, and you will receive a 20% kickback! Take some flyers door to door, post on your own social media and tell all your friends!
Subscriptions: Alana develops 2 brand new recipes every month only available online by signing up to our fortnightly or monthly subscriptions. Sign up 1 person for a fortnightly subscription using your 5% off code and you will get £77 commission in a year for doing nothing but tempting your friends.
Refer a Friend: Know someone that would also make the perfect Cakepreneur? Refer them and you will both receive a £35 credit to spend on the website if they sign up!
Apply to be an Ambassador at any time! If you love your business and want your own area to attend events, you can apply to become an Ambassador at any point for a discounted rate.
Earn Commission or Profit on Everything you Sell: You can earn between 12-20% on any orders your wholesalers make, the more of your wholesalers that order in a month, the more commission you will get! Or if you sell cake directly to friends, family, colleagues and more, you keep all the profit you make! When you sell at our RRP you can make over 50% profit!
We Make Your Career A Piece Of Cake
Sign up, pay your £150 fee and watch Alana's training video with a short multiple choice test and we will send you your Cakepreneur Cake Kit with all the cake and promotional materials you need to get started!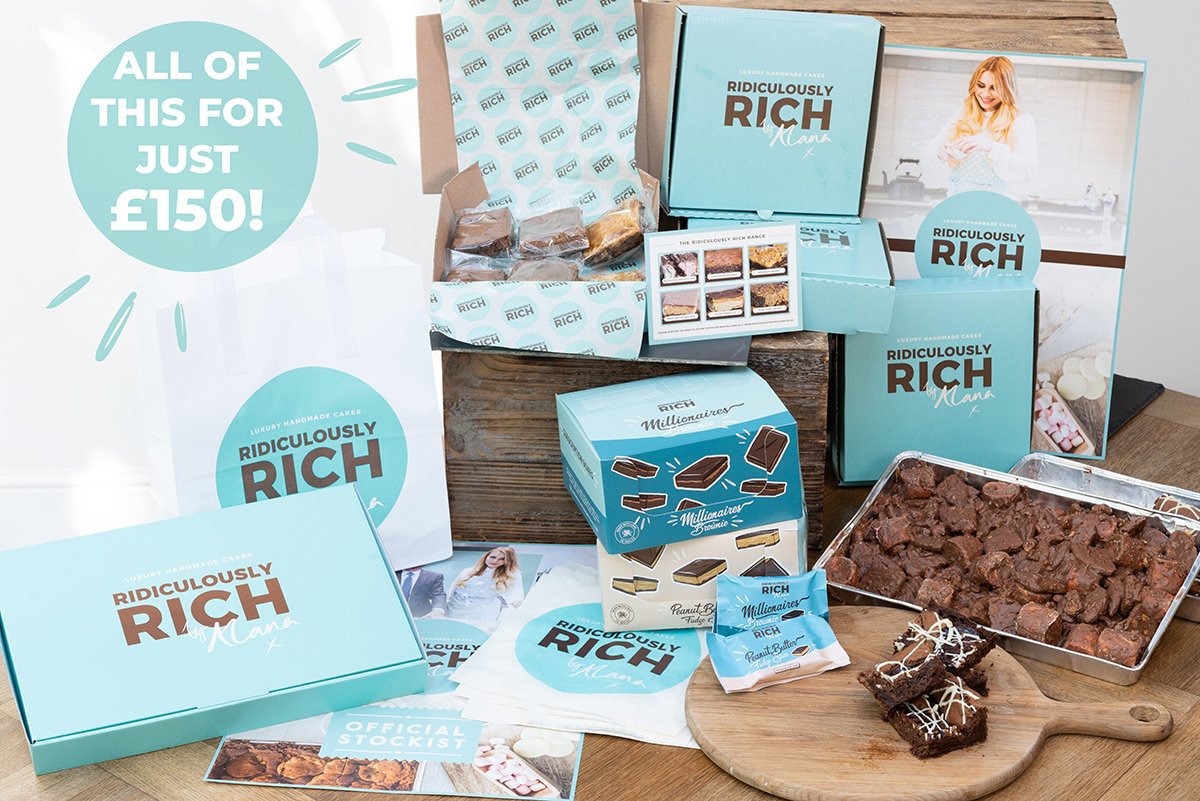 You'll be part of the Ridiculously Rich family and you'll always have the support of our team (including Alana!) to share ideas, answer questions and give you training on sales techniques or our tasty new products. We also hold VIP foodie events throughout the year for the team to get together share our stories and celebrate the love of cake!
Your dedicated Cakepreneur login page on our website holds all the resources you will need and you can keep track of your wholesale customers, easily order stock and plan your calendar.
What have you got to lose?! Sign up below and you will be selling our delicious cakes before you know it.
Any questions please email
cakepreneurs@ridiculouslyrichbyalana.co.uk
How to Become a Cakepreneur