Wholesale Cakes
Sign up to become a Ridiculously Rich by Alana retailer and you can purchase our entire range, including our luxury wrapped Grab & Go Bars and two monthly special flavours developed by Alana herself!
Your Ridiculously Rich cakes will arrive in flow-wrapped foil trays, pre-sliced into 15 portions* – perfect for food service! Our Grab & Go Bars are pre-packaged in a luxury paper and foil wrapper, and delivered in a shelf-ready box.
*Some cakes may arrive uncut depending on the product.
Our wholesale cakes are available to you at a trade discount that's reserved especially for our retailers. You will receive a small amount of POS material with your first order, and you'll be able to purchase all of our branded packaging too.
As a Ridiculously Rich retailer, you'll have the freedom to stock one or all of our delicious handmade cakes. You can sell them at whatever price you prefer, but we advise £2-£3 per slice for the full slices of cake and £1.95 for the Grab & Go Bars.
You'll even have your own account manager who can provide samples, help you place orders, and act as your point of contact. Find your nearest Ambassador now!


Wholesale Cake Display Options
We even offer display options! Whether you are a small café or a large farm shop, we make displaying your treats a piece of cake!
Contact us
for more information.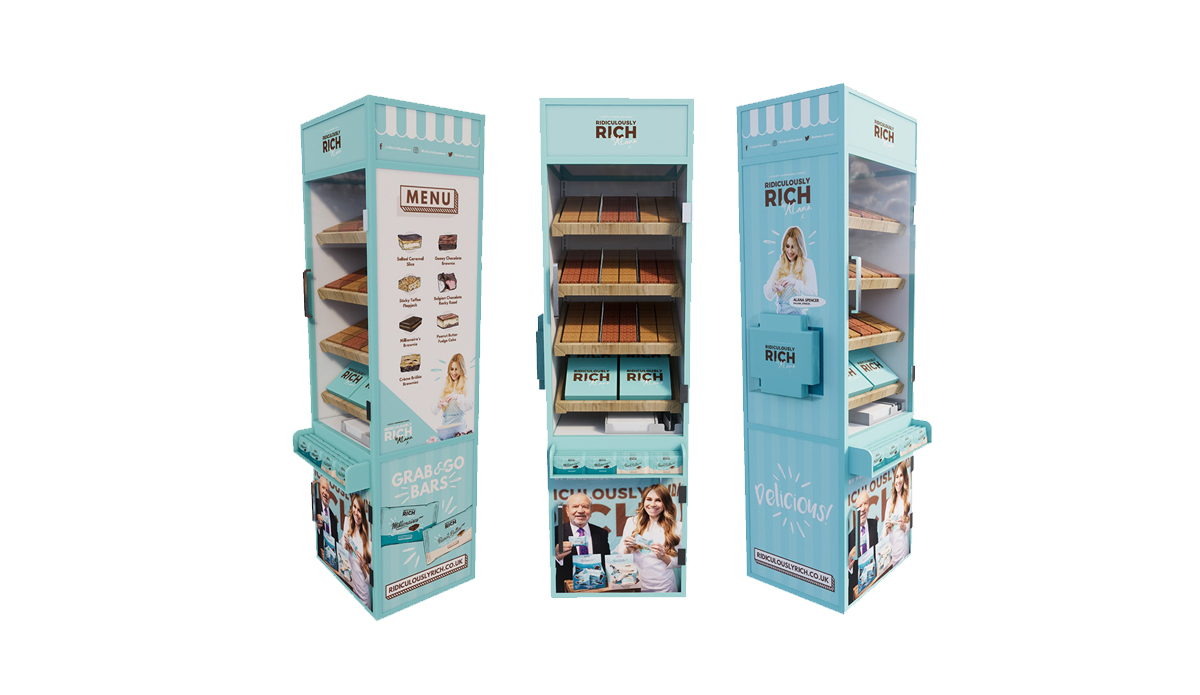 Our goodies are ideal for coffee shops, delicatessens, restaurants, farm shops, sports centres, and all sort of other businesses. Whatever you do and wherever you're based, we would love for you to stock Ridiculously Rich cakes – and we're sure customers would too!
Use the link below to apply for a wholesale account, or email contact@ridiculouslyrichbyalana.co.uk for more information about selling our cakes in your café, restaurant or shop.